Estimate My Cost
---
Price Transparency
The Centers for Medicare and Medicaid Services (CMS) require all hospitals to publish their standard charges and payer negotiated rates in a downloadable, machine readable format.
To download this file, please follow the instructions below.
Click on START ESTIMATE
Read the disclaimer and click on I Agree
Scroll down the next page to "Click here to download all standard charges for this facility"
To obtain an estimate of your own specific out-of-pocket costs, we recommend using our Estimate Tool below.
---
Estimate Tool
Conway Regional Health System is committed to helping our patients make informed choices when it comes to their healthcare needs. Our online estimator tool utilizes your current insurance benefits to estimate your out of pocket medical expenses for procedures both in the hospital or at one of our many clinics.
Click on the START ESTIMATE button below to enter your insurance and procedure information. Please have your insurance card handy.
Please Note: The estimate you will receive may include both physician (professional group) charges and hospital (facility) charges. Be sure to click on View Estimate Details when your estimate is presented to see the breakdown (see example image below).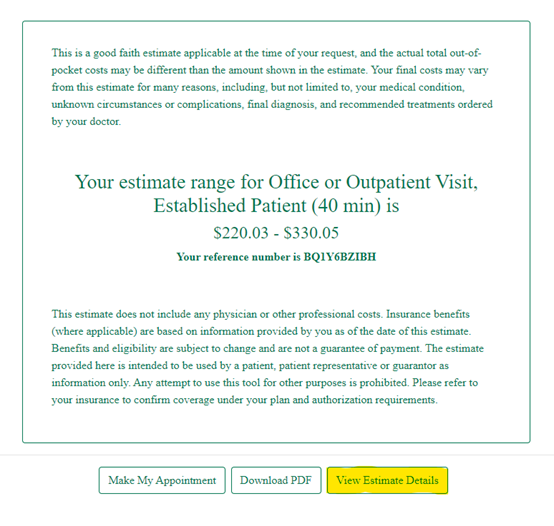 If you are looking for an estimate for a procedure performed in the hospital, the Professional Group charges would only apply if the procedure is being performed by one of Conway Regional's employed physicians.
If the performing physician is a Conway Regional physician, then both parts of the estimate would apply and you should use the information in the Summary section of the estimate details.
If you are looking for an estimate for procedure performed in one of our Conway Regional clinics, then only the Professional Group charges would apply.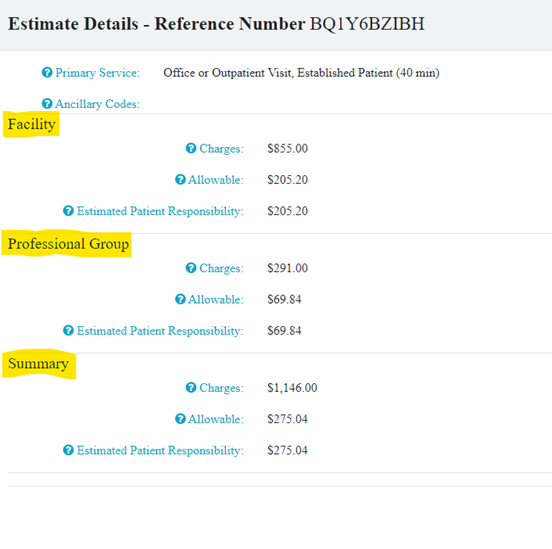 If you have questions, please feel free to call our staff for assistance:
For Hospital Estimates – call 501-932-3355
For Clinic Estimates – call 501-852-1363